METERING PANEL
Metering Panels are panels that display an input signal in an analog or digital form.
Metering Panels take a sample of the voltage or current to create a visual representation of the measured value.
Metering Panel is a type of control panels which are very much required for the domestic as well as industrial pur poses for the measurement of amount of power used up and the rate of power consumption.
Our metering panels can easily be installed and can conveniently be used for the processes of power consumpti on.
Customized designs can be negotiate according to customer request.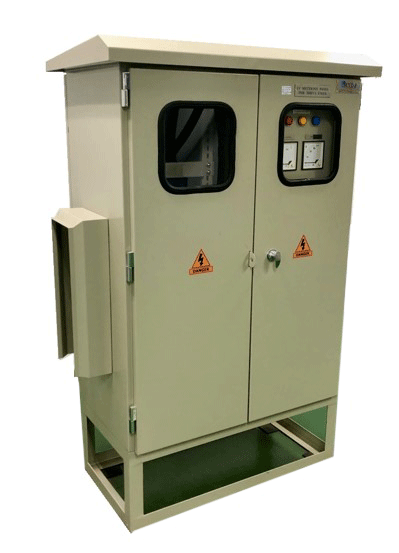 Panel Type
LV Metering Panel (With MCCB)
Panel Size (Outdoor)
750mm W x 900mm H x 450mm D, Footing-300mm (For 50kVA, 100kVA, 160kVA Transformer)
* Panel size can be changed depending on the environment in which it is applied.
900mm W x 1200mm H x 450mm D, Footing-300mm (For 200kVA, 250kVA, 315kVA Transformer)
1200mm W x 1300mm H x 450mm D, Footing-300mm (For 400kVA, 500kVA Transformer)
Rated Operating Voltage(Ue)
600/690 VAC
Frequency
50Hz/60Hz
Rated Insulation Voltage (Ui)
690/750 VAC
No. of Door
2 Doors
Metal Thickness (for Enclosure Body)
Up to 2mm
Metal Type
EGI (Electro Galvanized Iron) Sheet
Degree of Protection
Up to IP55 (Outdoor)
Color
RAL7032, RAL7035, RAL7033Z
Cable Entry
Side/Bottom
Installation Type
(Outdoor) Floor Standing Type
Applied Standard
IEC 61439-1/2