CAPACITOR BANK PANEL
Capacitor Bank Panel improved the power factor by adding capacitive reactance in steps as per the power factor requirement.
Power factor controller constantly monitors the load (and power factor) of the system on LV Panel and automatic ally switch on/ off the capacitor steps to maintain the system power factor to the set value.
The result is a reduced apparent power and an improvement power factor, reducing power losses.
User can reduced cost and higher revenue by installing Capacitor Bank Panel.
Can select two type of panel that the fixed value and automatically power factor improvement panel.
Capacitor Bank panel which are assembly Automatic Power Factor Controller, Circuit Breaker, HRC fuse, Magne tic Contactor, Busbar, Cable, Capacitors and etc.
Customized designs can be negotiate according to customer request.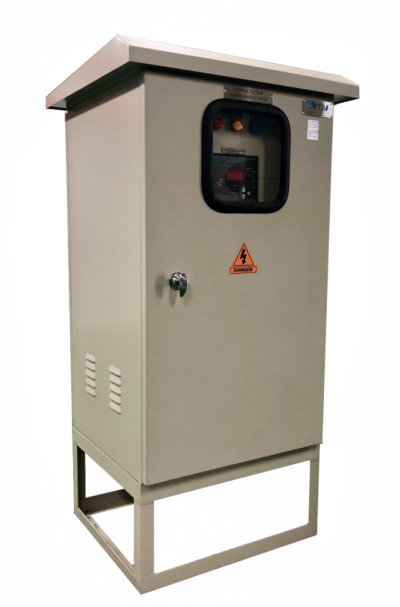 Panel Type
Capacitor Bank Panel
Capacitor Bank Rating

At (400V)

15kvar,20kvar,30kvar,50kvar,60kvar,70kvar,100kvar,120kvar,150kvar
175kvar, 200kvar, 240kvar,250kvar, 300kvar, 400kvar, 500kvar, 600kvar
* Panel size can be changed depending
on the environment in which it is applied.
Rated Voltage (Ur)
400 VAC
Frequency
50Hz/60Hz
Control Voltage
230/400 VAC
Rated Insulation Voltage (Ui)
750 VAC
Rated Short-Circuit Breaking Capacity (Icu)
Up to 85kA
Metal Thickness
(for Enclosure Body)
Up to 2mm
Metal Type
EGI (Electro Galvanized Iron) Sheet
Degree of Protection
IP3X (Indoor) / IP43 (Outdoor)
Color
RAL7032, RAL7035, RAL7033Z
Cable Entry
Top/Bottom
Installation Type
Indoor/Outdoor, Wall Mounting & Floor Standing
Applied Standard
IEC 61921, IEC 61439-1/2