ACB (Air Circuit Breaker) Panel
Air Circuit Breaker is used to protect, control and monitor for low voltage distribution equipment and that is more reliability for electrical distribution system safety and efficiently.
Air Circuit Breaker panel features as low voltage draw out or fixed power circuit breakers, circuit breaker compartments, primary and secondary power connection, structures, bus-bar, self-standing type and etc.
Can order two type of panel fixed and draw out type (3Pole and 4Pole).
Includes Current Transformer for measuring and protection.
Shall include Over, Earth fault current and Over and Under voltage protection as per customer request.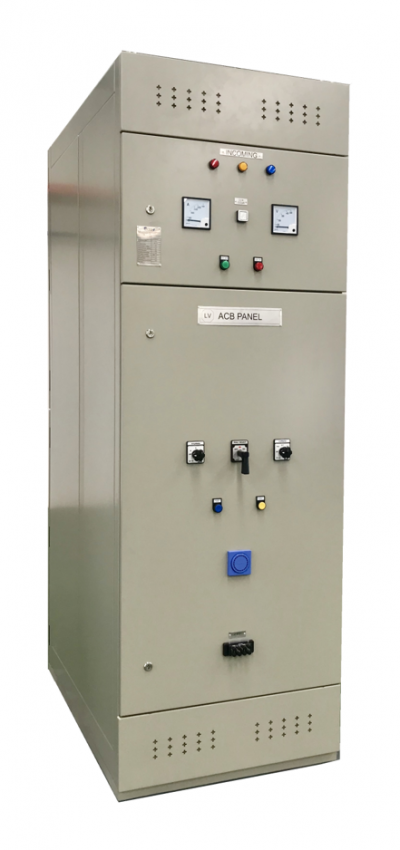 | | |
| --- | --- |
| Panel Type |  ACB (Air Circuit Breaker) Panel |
| Rated Current (In max) | 630A, 800A, 1000A, 1250A, 1600A, 2000A,2500A, 3200A, 4000A,5000A, 6300A |
| * Panel size can be changed depending on the environment in which it is applied. |   |
| Number Of Pole | 3/4 Pole |
| Rated Operating Voltage (Ue) | 690V |
| Frequency | 50Hz/60Hz |
| Control Voltage | 230VAC/ 400VAC |
| Rated Insulation Voltage (Ui) | 1000V |
| Rated Impulse Withstand Voltage (Uimp) | 12kV |
| Rated Breaking Capacity (Icu) (kA) | Up to 120kA At (220V/230V/380V/415V) |
| Rated Short-Time withstand Current (Icw) (kA) , 3sec | Up to 85kA |
| Metal Thickness (for Enclosure Body) | Up to 2.0mm |
| Metal Type | EGI (Electro Galvanized Iron) Sheet |
| Degree of Protection | IP3X~IP42 |
| Colour | RAL7032, RAL7035, RAL7033Z |
| Cable Entry | Top/Bottom |
| Installation Type | Indoor |
| Applied Standard | IEC 61439-1/2 |